Research profile
This laboratory is involved in studies of DNA metallation and its relationship to anticancer drug design. Anticancer agents containing metals such as platinum and ruthenium are investigated. Attention is paid to the distortions introduced by these drugs into DNA and their relationship to biological activity, to the base specificity of metallation, and recognition of distortions by DNA-binding proteins. Complexes which bind to DNA via ligand displacement or ligand rearrangement mechanisms are studied, and the kinetics of binding and rearrangement is investigated. These studies use a wide range of techniques of molecular biology, biophysics and biochemistry. The work is aimed at a better understanding of the mechanism of action of metallodrugs, and at a rational design and development of novel agents of relevance for anticancer strategies of interest to the pharmaceutical industry.
At present, the development of new drugs against cancer belong among priorities of the development of science and fundamental research. A successful development of these drugs is conditioned by the existence of extensive theoretical background, which contains in particular data on the mechanism of action of these compounds.
In recent years metal-based antitumor drugs have been playing a relevant role in antiblastic chemotherapy. Especially cisplatin is regarded as one of the most effective anticancer drugs used in the clinic.

Thus, the research, development and production of metal-based drugs is at present a very active international field. The research on platinum drugs has resulted, for the time being, in synthesis of two new platinum drugs, carboplatin and oxaliplatin, already introduced in the clinic. Importantly, the research, development, synthesis and clinical application of medical forms of platinum antitumor drugs have also a long-lasting tradition in the Czech Republic.


In spite of the great efficacy of cisplatin, carboplatin or oxaliplatin against ovarian, bladder and testicular cancers, these drugs display limited activity against some of the most common tumors, such as colon and breast cancers. In addition, a variety of adverse effects and acquired resistance are observed in patients receiving cisplatin chemotherapy. The great success of cisplatin on one hand and these limitations on the other have initiated efforts to develop new agents that will display improved therapeutic properties. The goals for the synthesis of new platinum complexes thus remain activity in cisplatin-resistant cells, an altered spectrum of antitumor activity and reduced adverse effects. Drug modifications may further allow for reduced cytotoxicity and altered mode of delivery.
Another approach in the search for new, metal-based anticancer agents is to examine complexes that would contain another transition metal. In the design of these new drugs, ruthenium complexes have raised great interest.
The antitumor activity of platinum and ruthenium drugs is generally accepted to involve binding to DNA. These drugs form adducts with DNA which block DNA and RNA synthesis and induce programmed cell death. Thus, intracellular interactions with these adducts are likely to be of central importance in explaining their toxicity towards rapidly dividing tumor cells.
Development of structurally novel drugs derived from the platinum-group metals is focused on those complexes which may act by different mechanisms than cisplatin. The structure-activity relationships originally delineated for platinum complexes stressed the necessity for the cis-[PtX2(amine)2] structure, where X is a leaving group such as chloride and amine represents ammonia or a primary or secondary amine group.
The trans isomer of cisplatin (transplatin) and monodentate charged complexes [for instance chlorodiethylenetriamineplatinum(II) chloride] are considered inactive, but this need not to be true for their analogues.

These relationships have always been accepted to be empirical in nature but initially allowed the synthesis and study of a manageable number of complexes, albait of similar structure. However, the DNA adducts formed by all simple cis-diammine(Pt) analogues are similar to those of cisplatin and it is unclear whether these compounds will have activity complementary or superior to cisplatin in the clinic.
The long term goal of the studies in this field is to develop a systematic approach to the synthesis of metal-based drugs with unique DNA binding activities capable of overcoming the problem of cellular resistance to cisplatin and of limited activity against the most common tumors, such as gastrointestinal and breast cancers. An important aspect of this approach is to find the DNA adduct of platinum and ruthenium most likely relevant to their antitumor effect and the factors controlling its formation. Another important aspect is to examine and compare the mechanisms of action of metal complexes structurally distinct from cisplatin.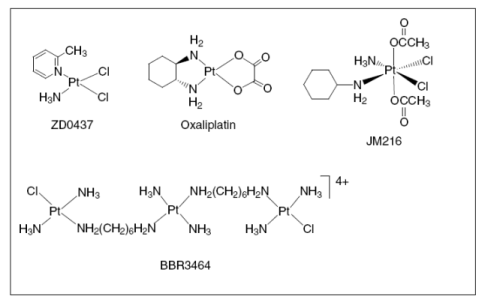 Structures of a few platinum compounds that are in clinical trials or recently approved for clinical use
Specific aims and long term conception of the research within this laboratory are to:
Determine the effect of DNA topology on interstrand cross-linking efficiency and the formation of other types of adducts of platinum and ruthenium complexes and determination of these DNA lesions in cells.
Study the interaction of the metal complexes with oligonucleotides and defined DNA sequences.
Examine the interaction of DNA containing a single, site-specific adduct of the platinum or ruthenium complexes with DNA-binding proteins.
Study the effect of metal complexes on conformation of telomeric DNA.
Investigate nucleotide excision repair (NER) of DNA adducts of platinum and ruthenium complexes.
Study the survival and efficacy of repair systems in bacterial cells treated with platinum or ruthenium complexes.
Study genotoxic effects of metal complexes using short-term tests on prokaryotes and eukaryotes.
Study light-activated anticancer effects of platinum and ruthenium compounds.
The compounds proposed for the studies of their binding to DNA within this project are already available at the Institute of Biophysics in Brno. Cisplatin and transplatin are commercially available; other complexes have been provided for the studies specified in this project by the collaborating foreign institutions.