Function of sex chromosomes-linked genes
Stability and integrity of cell nucleus
Structure of sex chromosomes
The existence and evolution of sex chromosomes is a basic question in evolutionary biology. While sex chromosomes in the majority of animal species are ancient, plant sex chromosomes have evolved relatively recently, making dioecious plants good models for the study of early steps of sex chromosome evolution. Silene latifolia (syn. Melandrium album or white campion) is the dioecious plant possessing heteromorphic sex chromosomes, X and Y. It formally resembles the mammalian type of sex determination since the gender is controlled by the dominant Y chromosome-linked genes present only in male individuals. Recent data on S. latifolia show that both the X and Y chromosomes harbour active genes, but that they are slightly divergent due to the genetic degeneration of alleles in the non-recombining region of the Y. Our laboratory is mainly focused on isolation and characterization of DNA sequences from S. latifolia sex chromosomes.
We have constructed X- and Y-specific libraries using DNA template obtained from nitrogen laser microdissected chromosomes. New sex-chromosome linked sequences are used for FISH mapping of S. latifolia and related Silene species in order to search for the sex chromosome homologues. We have recently improved FISH strategy for differentiating the sex chromosomes of S. latifolia by chromosome painting. This approach represents a quick tool to compare organization of plant genomes. We have also generated new sex linked markers by constructing and screening a sample bacterial artificial chromosome (BAC) library to look for appropriate FISH probes. We also study the roles of repetitive DNA sequences in the evolution of sex chromosomes. We follow accumulation of promiscuous DNA and tandem repeats on the Y chromosome. Our recent data indicate a new type of retrotransposons carrying tandem repeats that reveal a unique mechanism of tandem repeat amplification in the genomes. The results of our current research show that divergence of the sex chromosomes of S. latifolia is already in process and degeneration of the Y chromosome by accumulation of specific sequences has begun.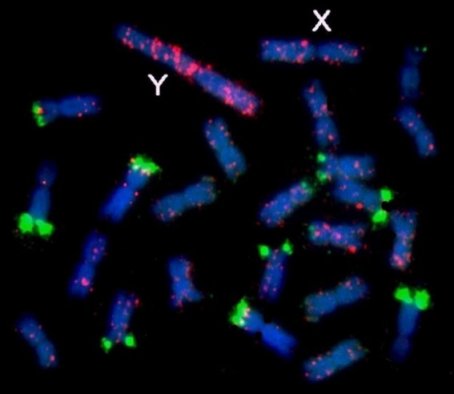 Function of sex chromosomes-linked genes
Our attention is paid to the study of the functions of gene complexes on the Y chromosome of Silene latifolia and their evolution. Promising results on this topic were obtained when studying an interspecific hybrid between dioecious S. latifolia and hermaphrodite species S. viscosa. Histological analyses of male plants, female plants, and various deletion mutants revealed a step-vise character of evolutionary changes during the formation of sex chromosomes. The histological approach is also used to study interactions of sex determining pathways of S. latifolia and action of parasitic smut Microbotryum violaceum, which is able to provoke anther formation in female plants. During the analysis of the Y chromosome deletion mutants (which is realized in collaboration with Professor Ioan Negrutiu, Lyon), we have already identified a new type of Y-deletion mutant with a phenotype similar to the phenotype of Microbotryum-infected plants. Our further investigation of this topic will be concentrated mainly on the study of expression of genes involved in anther development to reveal mechanisms of action of M. violaceum on the molecular level.
Our efforts are focused in the study on the evolutionary dynamics of sex linked sequences. In a collaborative research with the groups of Prof. Ioan Negrutiu (Lyon) and Prof. Deborah Charlesworth (Edinburgh), we have used X-linked copies of four sex-linked genes to build a genetic map of the X chromosome, with a marker in the pseudoautosomal region (PAR) to orient the map. The silent site divergence between the DNA sequences of the X and Y copies of the different genes increases with the genes' distances from the PAR, suggesting a progressive restriction of the recombination between the X and Y chromosomes. This fact has been confirmed by the phylogenetic analysis of the four genes, which also reveals that the least diverged X/Y pair seems to have ceased recombining independently in the dioecious species after their split. Analysis of amino acid replacements vs. synonymous changes show that, with one possible exception, the Y-linked copies appear to be functional, but there are some signs of degenerative processes affecting the genes that have been Y-linked for the longest times. Although the X-Y system is much younger in Silene (~ 10 MYA) compared to humans (~ 320 MYA), our results suggest that similar processes have been at work in the evolution of sex chromosomes in plants and mammals.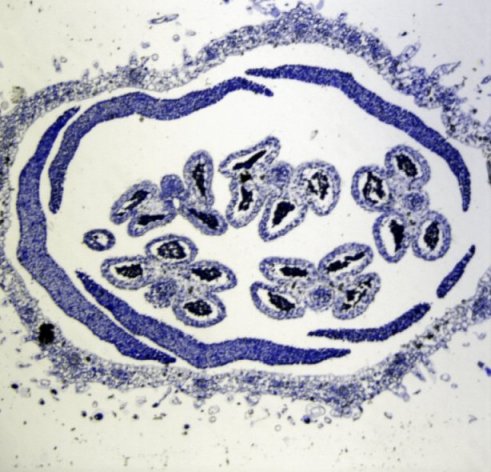 Stability and integrity of cell nucleus
The maintenance of the cell nucleus integrity is fundamental requirement for errorless functions of both, somatic and generative cells. Due to persistent natural action of destabilizing mechanisms (no matter which, external or intrinsic) nuclear DNA can be impaired in various means; among them double strand breaks (DSB) represent most significant danger to genome integrity. There are two major mechanisms for DSB repair: homologous recombination (HR) and non-homologous DNA end joining (NHEJ). The latter process can lead to the formation of dicentric chromosomes and give rise to unevenly distributed chromosome material during subsequent cell divisions. In addition, the ends of chromosomes depleted from telomeres are also recognized as DSB and these can eventually give rise to a chromosome end-to-end fusions.
It is conceivable that factors represented by telomere binding proteins that modulate general chromatin structure will affect telomere processing and maintenance. Due to a well define telomere structure and high tolerance to epigenetic changes and genome instabilities, Arabidopsis provides an excellent system for analysis of fundamental mechanisms involved in chromatin modulation.
In collaboration with Dr. Karel Riha (Vienna) we perform a cytogenetic analysis oftelomerase reverse transcriptase(homozygous tert-/-) Arabidopsis mutant plants and in vitro cell lines. Using fluorescence in situ hybridization with chromosome-specific BAC and a 45S rDNA probes, we have detected extensive genome restructuralizations arising from multiple fusions of homo- or heterologous chromosomes, followed by fusion of broken ends in the next cell cycle. The highest incidence of chromosome fusions has been observed at nucleolar organizer regions (NOR) of chromosomes number 2 and 4 as a possible result of structural and functional association of NORs at nucleoli. We have found similar nuclear destabilizations inArabidopsis mutants bearing the deficiency in Mre11 protein complex (Mre11/Rad50/Nbs1). This complex is required for NHEJ, sister chromatid repair, telomere maintenance and the initiation of meiotic recombination. Cytogenetic analysis of somatic cells during mitosis reveal abundant dicentric chromosomes and chromosomal fragments.