Lukáš Kubala, doc., Mgr., Ph.D.
Petra Daďová, Mgr.

Michaela Chorvátová, Mrg. 

Radim Jaroušek, Mgr.

Daniela Rubanová, Mgr.
Svitlana Skoroplyas, Mgr.
Antónia Mikulová, Bc.

Martin Jaroš, Bc.
Currently ongoing projects
Role of myeloperoxidase in the regulation of immune system function
The neutrophil-derived heme enzyme myeloperoxidase (MPO) has been shown to be critically involved in the pathophysiology of cardiovascular diseases, since it is now widely acknowledged that MPO itself is a major pro-inflammatory mediator involved in development of such processes.
The goal of our research is to illustrate a new and complex picture of mechanisms, illustrating how myeloperoxidase contributes to vascular inflammation and subsequent development of cardiovascular diseases. We employ both in vitro and in vivo models that include isolated neutrophil granulocytes, primary endothelial cell cultures and MPO-deficient (Mpo-/-) mice.
We have previously demonstrated that myeloperoxidase can contribute to the development of pathological inflammatory processes by virtue of a variety of mechanisms.
In the systemic circulation, myeloperoxidase binds to all blood cell types. In the case of neutrophil granulocytes, MPO promotes extravasation by physical forces, namely, by the acquisition of positive surface charges and subsequent electrostatic interactions. In the case of blood platelets, MPO is able to induce their priming. Red blood cells further serve as intravascular carriers of MPO in systemic circulation. MPO has also been shown to affect lung neutrophilia during the course of acute pulmonary inflammation.
Myeloperoxidase binds to endothelial cells and accumulates within the underlying extracellular matrix. MPO does this primarily by interaction with endothelial glycocalyx, inducing glycocalyx thickening based on its electrostatic interaction. We found a potentiation of MPO activity by glycosaminoglycan-dependent binding of MPO to proteins of the extracellular matrix.
MPO also interferes with formation of inflammatory mediators; based on modulation of metabolism and varying levels of arachidonic and linoleic acid metabolites during acute inflammation
Myeloperoxidase levels in systemic blood circulation is a prediction factor for the severity of acute coronary syndrome. The negatively charged glycosaminoglycan heparin increases endothelial nitric oxide bioavailability by liberating vessel-immobilized MPO. MPO also contributes to development of cardiovascular diseases and aggravates pulmonary arterial hypertension by activation of vascular Rho-kinase, and by interference with the endogenous nitric oxide synthase inhibitor: asymmetric dimethylarginine.
Myeloperoxidase promoter polymorphism is independently associated with mortality in patients with impaired left ventricular function. MPO mediates postischemic arrhythmogenic ventricular remodeling.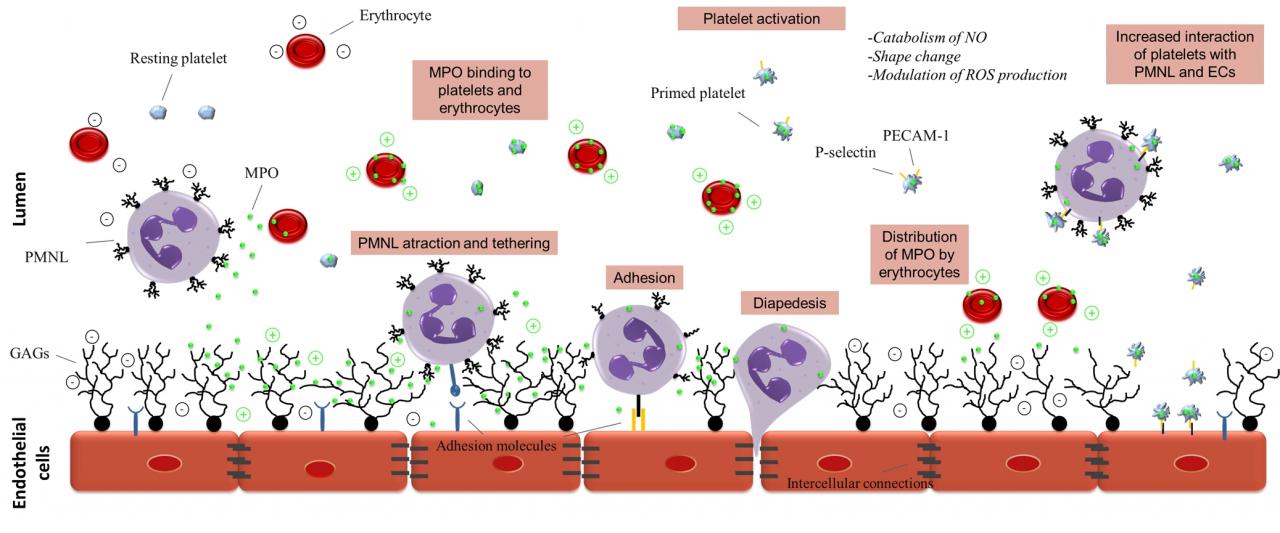 Adenylyl cyclases as a pharmacological target for treatment of inflammation related diseases
The goal is to specifically target particular variants of AC isoforms based on their role in selected inflammation related diseases.
We focus primarily on specific targeting of common variants of particular AC isoform with alternative expression or; activation in cells/tissues related to pathological inflammatory process. Additionally, we direct our attention to the specific targeting of polymorphic variants of AC isoforms based on their role in selected diseases.
We are interested in defining the role of AC isoforms in the regulation and development of Th cell subpopulations during the inflammatory process.